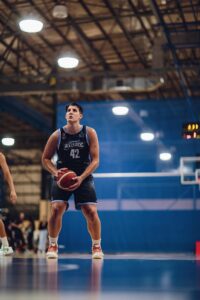 When Northside Wizards' man mountain'' Josh Leaney sets a screen, you know it, and the opposition is usually left scrambling.
Josh's sheer size creates openings that other players can only dream of, and it is due to the 24 year olds basketball smarts and his massive 120kg 198cm frame.
After returning to Australia after winning two College Basketball Championship rings in the United States, the Northside Wizards were lucky to sign the basketball maestro, and Public Safety Training & Response Group were fortunate to come on board as a player sponsor and supporter of the Wizards 2023 season.
And what a start to the season the Wizards are having, they are currently sitting fifth after a 5-2 start to the season despite having several key players out with injury and representative duties.
Based in the north of Brisbane, the Northside Wizards play in the NBL 1 North League, which features international, and national players and teams from as far north as Darwin to the Gold Coast and major cities in between.
Such is Josh's height and size he can hold his own in most spots on the court, primarily playing a small forward centre role.
Josh says, "Returning to play in Australia has been another exciting chapter in my life. We have a really tight group of players and a real passion within the club. This comradery translates to our performance on the court, where we all go into battle for each other."
Josh's leadership and direction on court are the same attributes shared by Public Safety Training & Response Group and the services we provide.
Public Safety Training & Response Group Marketing Manager Gordon Watson says, "We are proud to be a player sponsor for Joshua Leaney and the Wizards team. He is a great role model and a smart young man. Josh is also a great leader; we are excited to support the Wizards as Josh as the team continue to showcase their skills and inspire others to achieve their own goals."
Northside Wizards teammate Cameron Healy also said, "Having Josh join our team this year is a great indication of the calibre of players we are able to attract to our program. As a community-based association, it's just as exciting that community minded business like Public Safety Training and Response Group is also attracted. As a valued sponsor, their support helps us to continue to build a program that will deliver opportunities for the best local talent now and into the future."
Public Safety Training & Response Group is a veteran owned Registered Training Organisation (RTO #45395) providing a range of emergency response training solutions including CASA approved drone training for key community groups and individuals.
Public Safety Training & Response Group has a goal of achieving one third of employees from a Veteran background by the end of 2023 and beyond.
To find out the next Wizards home game visit Northside Wizards Basketball.
Picture credit @Juddric on Instagram.