Fotokite is an actively tethered surveillance system designed for situational awareness and aerial monitoring in various applications, including public safety, emergency response, and event management.
It consists of a compact and lightweight multirotor craft that is attached to a tether, allowing it to fly and capture aerial footage while remaining securely anchored to the ground.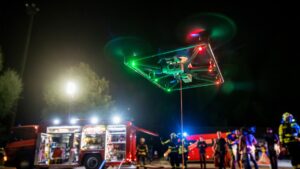 The ruggedised system allows Fotokite to operate in various weather conditions with an IP55 rating, and the high-strength tether also provides power and data connectivity to the drone for uninterrupted flight. It can hover, capture footage, and stream video to first responders located remotely in command centers.
The active tether physically limits the Fotokite within a specified operational area and enables flights for 24 hours straight without any piloting required. It also eliminates the risk of fly-a-ways and signal interference, since the entire system is not dependent on GPS and RF control.
Public Safety Training & Response Group Aerospace Engineer Chin Thai Ong said, "The Fotokite is a game-changer in emergency response drone deployment. Fotokite can be deployed with the press of a button and controlled from a handheld mobile device and within seconds can provide situational awareness and real-time aerial perspective, enabling rapid decision-making."
The Fotokite is equipped with dual low-light and infrared camera sensors for visibility throughout day and nighttime operations. The infrared camera offers radiometric temperature measurements to within 5% accuracy, and the low-light camera carries 12MP and 16x zoom capabilities.
Chin Thai adds, 'The camera and sensor technology used in the Fotokites can give emergency responders a real advantage by allowing them to see something that other equipment would not.'
Fotokite deployment process
Deploying a Fotokite is designed to be a one button push system.
When utilising Fotokite's Rooftop Box configuration, deploying a Fotokite involves arriving on location in a vehicle, checking for overhead obstructions, and pushing the "Launch" button. This begins the system's automatic pre-flight checks and results in the system flying to a pre-set altitude and awaiting the operator's next command.
The flight control of the Fotokite is controlled using an included rugged tablet, ready for integration into any vehicle or command center. The operator can control the system's altitude, camera Pan-Tilt-Zoom, and additional settings within Wifi or ethernet cable range of the Fotokite Ground Station.
Once deployed and powered on, the Fotokite drone can perform aerial monitoring tasks. It can capture and stream real-time video footage from a dual RGB and Infrared camera payload.
Importantly the tether of the Fotokite is managed by a reel system that automatically adjusts its length based on the systems movement. This allows the unit to manoeuvre within a defined radius without tangling or creating hazards.
How can Fotokite be used?
Fotokite can aid first responders in assessing emergency situations, conducting search and rescue operations, and monitoring large-scale events. It provides a real-time aerial perspective, enabling rapid decision-making and situational awareness.
Equipped with both low-light regular and FLIR thermal camera, Fotokite is useful for fire response and continuous monitoring for post-fire hotspots.
Fotokite can be deployed to enhance security and crowd management during events over long periods of time. It provides organisers with an aerial view of the event space, helps identify potential safety risks, and assists in monitoring crowd flow.
Public Safety Training & Response Group is an authorised dealer of Fotokite in Australia.
To find out more, or arrange a demonstration simply call 1300 396 570 or explore our website.